#BritishSandwichWeek: Croque Madame Recipe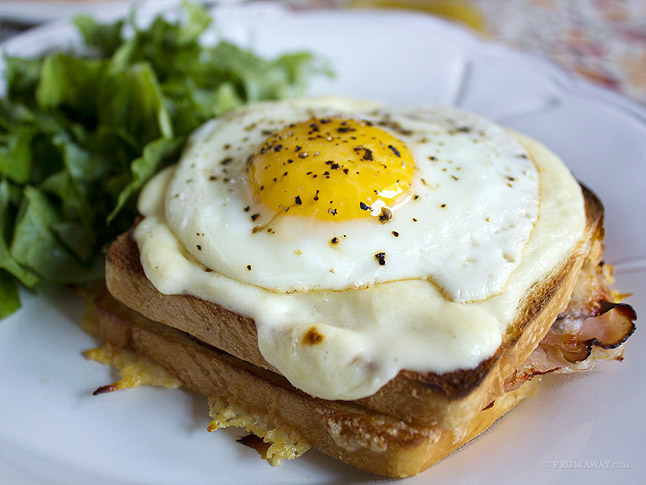 Ingredients:
Sandwich:
2 Slices of bread
2 Slices of cheese (Emmental, Gruyere, Cheddar)
2 Slices of thick cut ham
Bechamel Sauce:
25g Butter
1 Tbsp flour
125ml Milk
Pinch of salt
Pinch of pepper
1 Tsp of Dijon mustard
Topping:
1 Large egg
To make the Bechamel sauce slowly melt the butter in a pan on a low heat, once melted, add the flour in parts and beat it with a wooden spoon until it forms a ball. Then slowly add your milk to the pan and keep stirring it over the low heat to keep it nice and smooth. Once you have added all your milk, add your seasoning and leave it to thicken for a couple of minutes. Set the sauce to the side.
Lightly toast your bread under the grill and then butter each slice, layer the cheese and ham on one slice and place the other slice of toast on top. Then spoon your sauce onto the top of the sandwich, place under the grill until it starts to turn golden brown. Meanwhile, put a knob of butter in a frying pan and crack open your egg. Fry the egg but make sure you keep the egg runny, once ready place on top of your sandwich and serve with a side salad.
This entry was posted in Recipes
---