Ten top tips to keep your pooch looking pawsome and healthy!
We often get asked to give advice for keeping your four legged friends pawfectly groomed and healthy and have therefore put together some tips with help from our friends at Penelope's Dog Grooming and Therapies.
Daily Skin Check – by keeping up a regular grooming regime at home for your dog this also gives you the opportunity to check over your dogs skin and notice any potential health risks such as: rashes, bald patches, fleas & ticks, lumps & bumps etc.
Fur maintenance – brushing is important for both long and smooth coated dogs – a slicker brush should be used for long coated dogs on a daily basis to remove excess fur and prevent matting. For a smooth coated dog a rubber brush is great for removing excess hair whilst helping to lessen shedding.
Ear Cleaning – Ear infections are common for all breeds of dogs but proper ear care for your dog will reduce the chance of infection. We recommend using a herbal ear cleaner.  After flushing with an ear cleaner, gently massage the base of the ears to distribute the solution around the ear folds before using a cotton pad/bud to remove excess dirt. A good rule of thumb is to do this once a week.
Pawdicure – To trim your dogs nails you will need a good quality nail clipper and some styptic powder is also handy incase the nail is cut too short. You will want to be careful not to cut the quick (vein running down the nail) when doing this – if you are unsure on where the quick ends you may want to seek help from a vet or qualified groomer. Short nails are important as nails that are too long can splinter and cause unnecessary pain.
Teeth Cleaning – Brushing your dogs teeth with a toothbrush and toothpaste designed especially for dogs will help to prevent decay and disease. If you're uncomfortable or unsure on brushing your dogs teeth then a breath spray or water additive for dogs is also a great option for keeping teeth clean.
Tear Staining & Wrinkles – dogs are prone to getting what is known as tear staining around their eyes if they are not cleaned regularly. There are a number of products on the market to help get rid of these but daily cleaning can prevent them from happening in the first place. For wrinkly dogs (e.g. Bulldogs, pugs, etc) the folds on their faces should also be cleaned daily to prevent infection as well as keeping them clean.
Healing balms – healing balms are great for relieving dry, cracked paw pads and noses. As well as this these balms will help to protect against every day wear and tear. It is a must for using in extreme weather conditions as it gives protection against; hot pavements, ice, salt and road grit.
Inverted tail pockets – dogs with screw tails are open to a number of potential infections, wrinkles provide a dark and moist space where bacteria, yeast and other infections thrive and so daily cleaning is essential. The tail pocket should be cleaned to remove dirt and then dried completely to help stop moisture from growing into bacteria.
Diet – a dogs coat is often a reflection of what they eat: feeding high quality food with good, digestible protein sources can be the difference in a dull, coarse, lifeless coat and a shiny, silky, healthy coat. We recommend a raw diet with added fruit and vegetables as this is associated with improved over all health. A few benefits of a raw food diet include; healthy coat and skin, cleaner teeth and fresher breath, higher energy levels, a stronger immune system and improved digestion.
Bonding – the emotional bond between an owner and their dog is something that money just can't buy and daily grooming is a way to make that bond even stronger! Grooming your dog regularly from an early age helps them get used to being handled, which will make it easier to look after them properly in later life. We recommend setting aside a set amount of time each day to groom your dog – no matter what breed you have.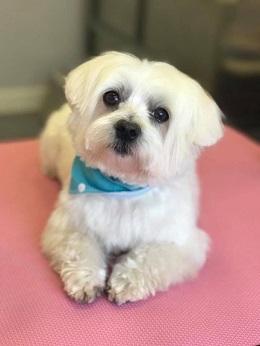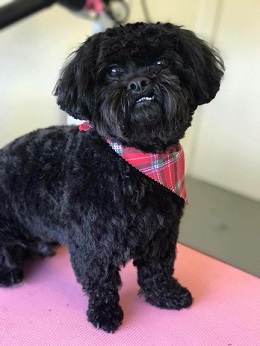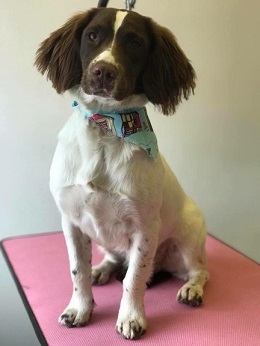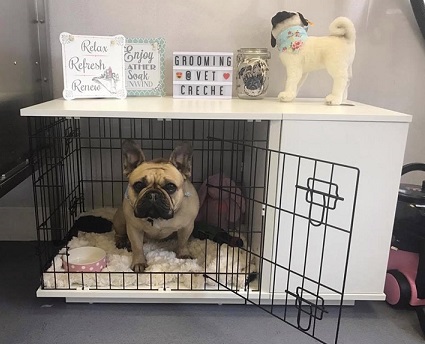 Lauren from Penelope's Dog Grooming and Therapies has provided some more information about their salon:
At Penelope's we pride ourselves on the well-being and care of pets. No animal is ever forced into unnatural or uncomfortable positions and they are free to take breaks when they need. We have worked to create a calm, safe and stress free environment where dogs can be groomed, pampered and spoiled. We offer lots of different treatments and use a variety of techniques as we know that each individual dog is one of a kind and so deserves a unique experience with us at Penelope's.  For more information visit their website here
This entry was posted in Dogs
---