Tried & tested: Autodoor customers give their feedback!
Omlet's first ever Autodoor for chicken coops has just launched!
Designed to work with the best selling Eglu Cube as well as any wooden chicken coop. Omlet's Automatic Chicken Coop door is battery powered and combines both a timer and a light sensor, giving you the ultimate flexibility and control.
Some customers have been testing this new Autodoor for us and we've been in touch with a few of them to see what they think of this fantastic new door and whether or not it has changed their lifestyles; giving them the lay in that they've always longed for…
---
Hayley from Hayley's Lottie Haven rescued 6 Chickens in November 2017 that live in an Eglu Cube on her allotment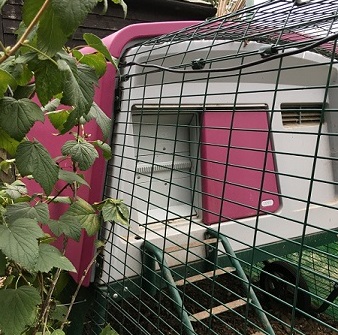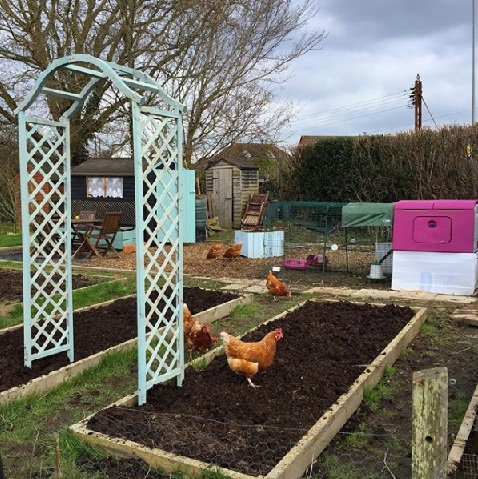 How are you getting on with Omlet's new auto door? I absolutely 100% love it! It is literally a life changer for us hen mums!
Was it easy to install ? Have you installed directly onto your Cube or to the run? I installed it onto the Cube as I wanted them to be able to get up when they wanted and go back to sleep without the risk of Mr Fox getting to them. It was really easy to install and took about 20 minutes. The instructions are very user friendly.
What do you love about it? The freedom it gives me. As a new chicken keeper I understood the commitment of having chickens, although the reality is quite different. The girls like to get up at first light and for me to have even an hour lie in at the weekend, leaves me feeling guilty when I see them desperate to get out into the run. Likewise in the evening if I cannot be back for last light I worry frantically about the night time wildlife coming and disturbing the girls. However since trying the auto door a weight has been lifted. I no longer have the gruelling first light wake up call and I now know they are safely tucked up in bed while I'm out for dinner.
Which setting do you use? What is easy to set up? I use the timer setting. My chickens are kept at my allotment so unlike most I cannot keep a close eye on them out of the living room window. I have had first hand experience with foxes sniffing round the coop (the chickens were tucked up safe). That means I am extra cautious and like to let the girls out when the coast is clear so the timer allows me to have full control.
Has it changed your lifestyle? Do you finally get that lay in that most chicken keepers long for? It has completely changed my lifestyle. I even went through last winter leaving work for half a hour so I could go and lock the girls up safe and sound before dark. I suppose its not only changed my lifestyle but also my girls. I don't think there are many people that keep chickens purely for the eggs. We all want to give the best life for our chickens, especially as mine have been rescued from a horrible life in a battery farm. So for the girls to have consistency, waking up at the same time every day, having as long as possible to roam around as they please, and then put themselves to bed knowing that they are going to be safe. Its perfect for us.
Not knowing anything about automatic doors, I didn't know what to expect or how it would work. I may have been a bit sceptical but I was completely won over after setting it up. Being able to set the timer or use the light setting filled me with confidence. I was a tad worried about the door shutting on the girls but it moves fairly slowly and gives the girls plenty of warning. Plus it has a "crush" detector, so if anything gets in the way, it won't close. I wasn't sure if I would be having to refill it with batteries every two seconds as I don't have mains electricity down my allotment, however the battery has never run down. The info panel tells you exactly how much battery is left which again gives me peace of mind.
---
Ruth has three chickens and has been a chicken owner for about ten years.
How are you getting on with your new Autodoor? We really like the auto door. Previously, we had a different light sensitive auto door but it was not integrated into the door and so was more likely to fail.
Where have you fitted your Autodoor? The auto door is on our Eglu and was easy to install.
What setting do you use? We use the light sensitive setting to ensure that it opens as soon as our girls are ready to get up for the day and closes shortly after they take themselves off to bed at night.
What do you love about the new Autodoor? We love the reliability of the door and the battery indicator on the controller. We used to worry about the door failing because the batteries suddenly ran out or because the wire snapped on the old auto door opener. The chickens being shut in or out would be awful.
---
Emma has been keeping Chickens for over 17 months and has 8 hens living in an Eglu Cube.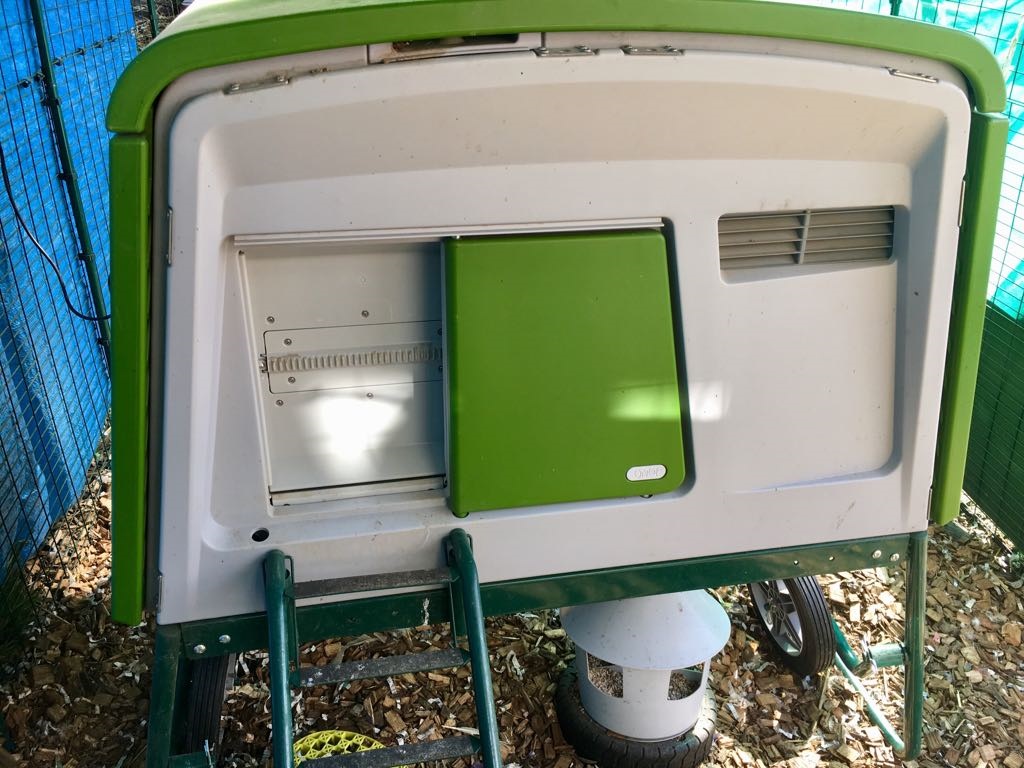 How are you getting on with Omlet's new auto door? We've been trialing the door since May. I was very excited as I knew it was going to cut down the amount of time doing the morning chores.
It's lived up to what I hoped it would be. It's made mornings/evenings smoother and  I am very impressed it's very well made.
Was it easy to install ? Have you installed directly onto your Cube or to the run? It was really easy to install my husband did it in 20 mins. We have installed it directly onto the cube.
What do you love about it? I love that this summer holiday & weekends i can lie in bed and not worry about running downstairs and going out to open up.
I can have a lie in, I Love it!  I wouldn't be without it now.
Which setting do you use? What is easy to set up? We use the solar setting.  Yes very easy instructions to follow.
Has it changed your lifestyle? Do you finally get that lay in that most chicken keepers long for? Yes! ! Such a lovely feeling.
It has made a big difference to our family, it's stopped the arguments of who's turn it is. I'm looking forward to it being Autumn and Winter now!
This entry was posted in Chickens
---