Why Won't My Cat Sleep in Its Own Bed?
Every cat owner knows the feeling of treating their feline friend to a new bed, only for him to reject it in favour of the cardboard box it came in, or even worse, jump straight back on to your bed and curl up right in the middle! But why is it that cats often like to sleep on our beds instead of their own? And can their minds be changed?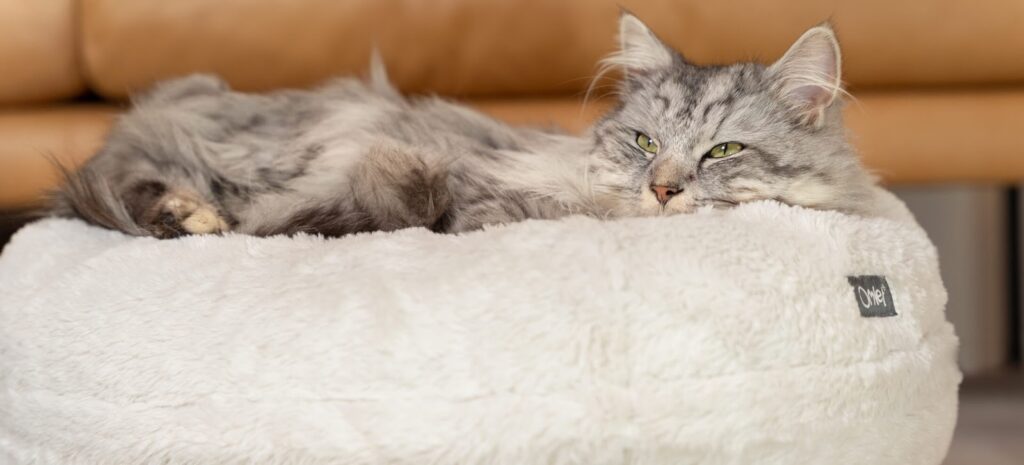 How long do cats sleep for?
Cats sleep an average of 12 to 16 hours a day! That's double a human's recommended sleep time. It's no wonder cats can be so particular about where they choose to rest, and can be found sleeping in different places all around the home, often depending on the time of day or night. Their important sleep routine should be supported by the perfect bed, so why do they choose yours?
Why does my cat prefer to sleep in my bed?
Many surveys have concluded that owners who allow their cat to sleep in the bed with them have a worse night's sleep due to having less space or being disturbed by their cat meowing, snoring, purring or grooming, yet cats don't seem to mind bunking in with their owners!
You may also notice your cat is getting more use out of your bed than you, and chooses to curl up there for a quick cat nap, or even a leisurely 5 hour snooze. This also leads to many cat owners reporting they have to wash their bed sheets more often if they share the bed with their cat.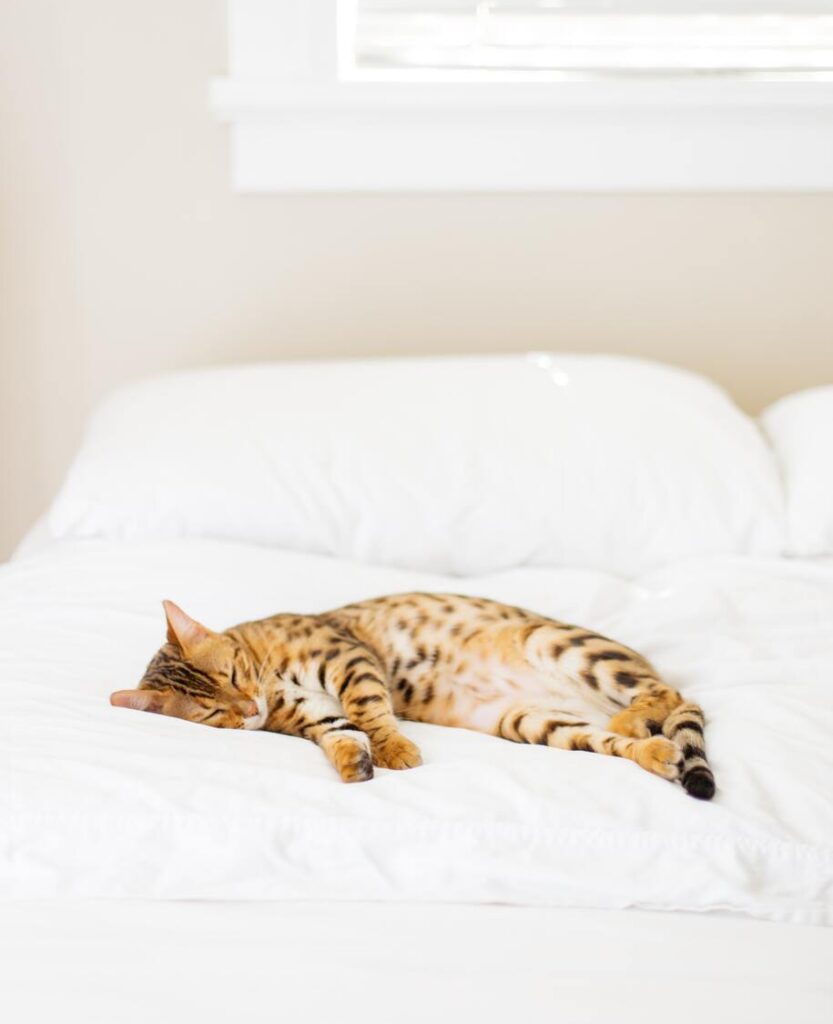 Cats may like to sleep with their owner for warmth, company or reassurance, but it may also simply be because your bed is far better than theirs.
Why won't my cat sleep in its own bed?
A commonly cited reason for cat owners not buying their cat a bed is that they think they won't use it, but never giving your pet the chance to find somewhere else cosy to sleep will surely mean a life of nighttime disturbances for you.
It's no secret that cats are the fussier pet in the home. This fussiness might extend to wanting a particular brand of cat food or litter, and of course refusing to sleep in that lovely new cat bed you treated them too.
But why is this? 
If your cat is eager to curl up on your luxurious, thick fluffy blankets, or stretch out on your own memory foam mattress, the problem could lie with the quality and style of the bed you have chosen for your cat. Do you need to get your cat a new bed?
Image by Paul Hanaoka from Unsplah
Which cat bed is right for my cat?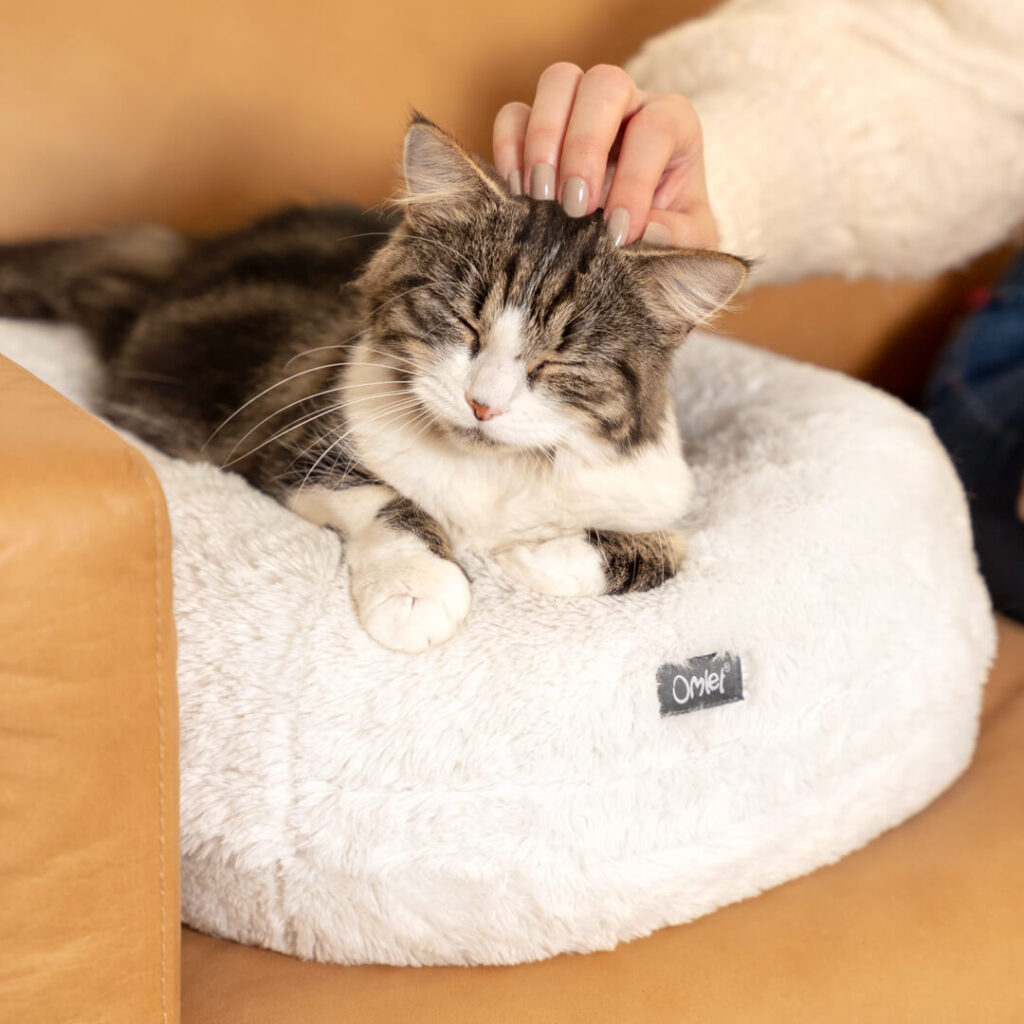 The first step to finding a bed your cat will actually use is identifying what they like; there is no use in buying a small cave bed if your cat prefers to stretch out across the sofa, or a thin, flat bed if your cat likes to sleep in a deep, squishy cushion. Ignore novelty cushions, get your cat a bed they will actually love.
If your cat likes to curl up and sleep on a plush or faux fur blanket on the sofa, consider a fluffy bed they can really sink into, like the new Maya Donut Cat Bed from Omlet. The removable, machine washable cover is super soft to touch, and the deep donut cushioning supports all around the body for a warm and cuddly feeling which will lull your cat to sleep. 
If your cat likes to sleep near you, place the Maya Donut Bed on the sofa for a cosy cat cushion. You can also raise the bed off the floor with sophisticated, designer feet to minimise drafts, disturbances, and maximise style. 
For cats who like sleeping on their owners thick, memory foam mattress, consider a memory foam bed they can call their own, like the Omlet Bolster Bed. The generous size of the bed will allow your cat to stretch out and roll around just as much as on your nice double bed, and they can still curl up against the cushion of the bolster edge. 
How can I encourage my cat to sleep in its own bed?
The position you have placed the bed in the home may also be unfavourable for your cat. Notice where your cat chooses to sleep in the day, and place the bed near this area. If your cat sleeps on your bed or the sofa, start by placing the cat bed on top of these. 
Use treats as a reward for getting on the bed voluntarily. Make sure not to move the bed repeatedly around the home, this could unnerve your cat and make him resistant to getting too close for fear of it being moved away again! 
Some cats don't like sleeping on the ground, so consider raising the bed up with feet, like for the Maya Donut Bed. You can also place the bed in a sleek frame, like the Maya Sofa, perfect for the Bolster Bed. 
Why has my cat discarded his old bed?
If your cat has decided his once favourite cat bed is no longer for him, it could simply be a small personality change. If he's not showing any other signs of abnormality which could hint to a health problem, he could simply have got bored of the bed, or found a better sleeping spot somewhere else in your home. 
It could also be that the bed has lost its cushioning and is simply no longer comfortable enough for your cat to sleep on, or perhaps the bed has become dirty or smelly and your cat would prefer a fresh start. This also might be the case if you've got another cat in the home who has stolen the other cat's best nap spot. 
Make sure to buy a bed with an easy to remove and machine washable cover so you can keep the bed fresh, and a high quality mattress or cushion which won't lose its plumpness!
It's important to give your cat freedom to sleep where he or she feels most comfortable, and if that's a cardboard box then so be it! But by ensuring your cat has at least one warm and cosy option and using positive encouragement, your cat might see the benefit to his own space and finally let you sleep in peace!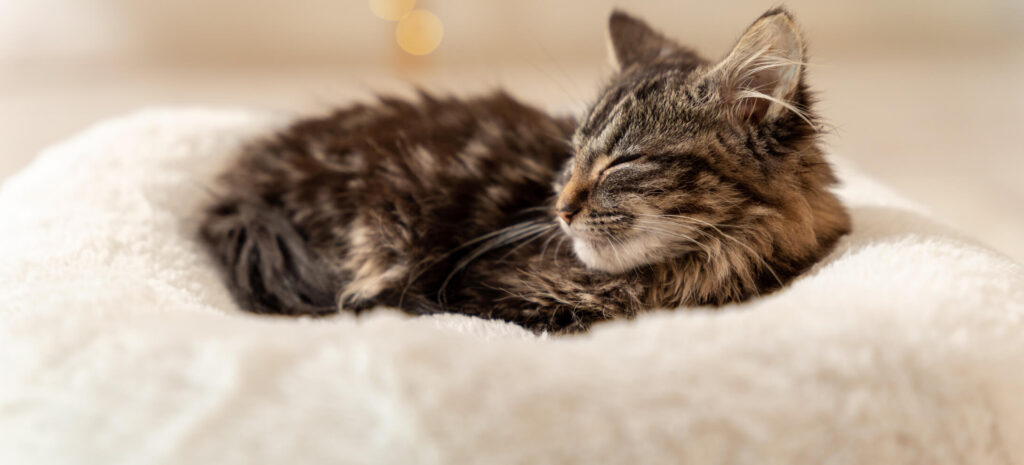 Introducing the new Maya Donut Cat Bed
Super soft and luxurious feel for a restful cat nap

Removable, machine washable cover is easy to keep clean

Raise the bed with designer feet for style, comfort and hygiene

Supportive shape with deep filling for a warm, cuddly feeling 

Choose from two stylish colours to suit your home

One size suitable for cats up to 5kg

Available from £20.99 now!
⭐⭐⭐⭐⭐ Gemma, Verified Omlet Product Tester – "I am so glad I have finally found a cat bed that is not only nice to look at but my cats love! I find that cheaper cat beds lose their shape and colour quickly, and this hasn't happened at all! It still looks great, and a super easy to wash cover means it will stay looking great for a while yet! Can't recommend enough!"
This entry was posted in Cats
---