How to Introduce a New Puppy to Your Dog
So you've decided to add a new member to your fur family – congratulations! While you are preparing for all the ways you can make the new puppy comfortable at your home, it's equally important to prepare for the introduction of your new pup to your resident dog. You know, the one who has held the title of "only dog in the house" forever?!
Dogs are innately social animals, but that doesn't mean they all get along at first sniff. Taking the time to prepare for a puppy homecoming and the new adjustments will help make this transition easier and enjoyable. Here are some ways to be certain that every pet feels at ease when you bring home a new puppy.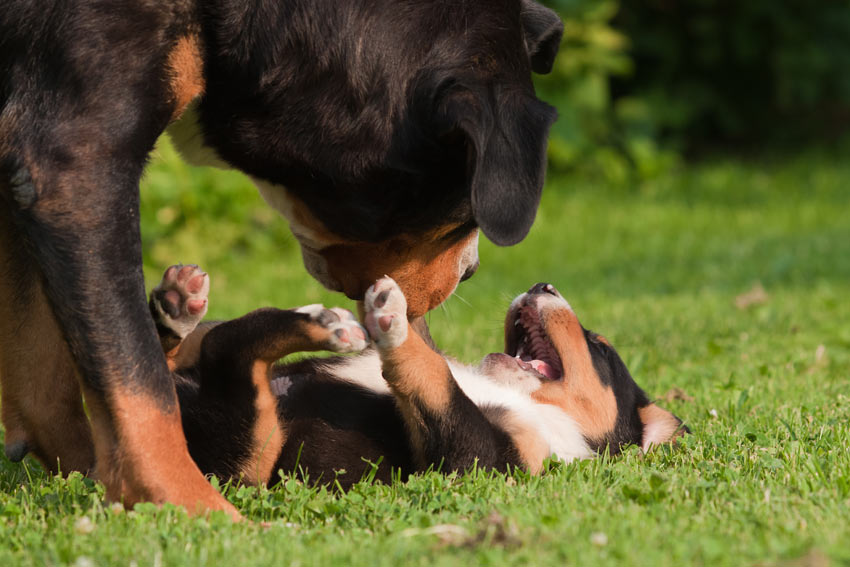 Preparation
In the last few years, many pet owners have adjusted their work schedules to include increased flexibility and working more from home. And with more time spent at home, it's been the paw-fect opportunity to introduce a new puppy to the family! But what about the furry friends that are already part of your family? How do you know if they want a new friend, too? And what should you do before you actually bring your new pint-sized pal home?
The key to any great success is preparation! When it comes to introducing a new puppy to your resident dog, that is no different. Your current dog has become accustomed to certain routines. They eat in certain places, sleep in specific spots, and have at least one (or seven!) favourite dog toys. Prior to bringing home a new pup, it's best to separate your resident dog's "stuff" in one area so it is safe and secure away from the new dog's area. Even if your reliable resident rover has never shown aggression before, this is a cautious approach for the first few weeks to prevent your current dog from becoming territorial of their toys and spaces. 
On top of all the other puppy essentials you will need for the new arrival, this is also a good time to set up gates or dog crates to separate spaces. This will provide two benefits: making sure your new puppy does not feel overwhelmed with access to the whole house and comforting your resident dog who already has their favourite spots to snooze, lounge, and play. Plus, your resident dog may just need a break from all that puppy energy!
The first meet
The humans in your family have met the new puppy, but now it's time to introduce your resident dog to the new fur member! Here are some tips on how to have a paws-itive first meeting:
Locate a neutral spot for first introductions. Neither dog should feel territorial to the meeting place so pick somewhere that is away from your house for first sniffs. And since most puppies have to wait until 12 weeks of age to receive all of their shots before safely being around other dogs, try and avoid areas with lots of other pups running around.

Allow both dogs to meet naturally like dogs do! Sniffs, whiffs, and even ignoring one another can be expected – and allowed! – on their first meeting.

Try to keep the initial introductions brief and then head out on a walk with both dogs. This will allow their interactions to continue while also being distracted by other sights and smells.

Before heading back inside, allow some additional play between the two dogs in the front or backyard of your house. This will allow you to see how your resident dog feels about having a new playmate on their 'territory'. 

Once everyone has expended some energy, it's time to bring the paw-ty back inside to continue to get to know one another!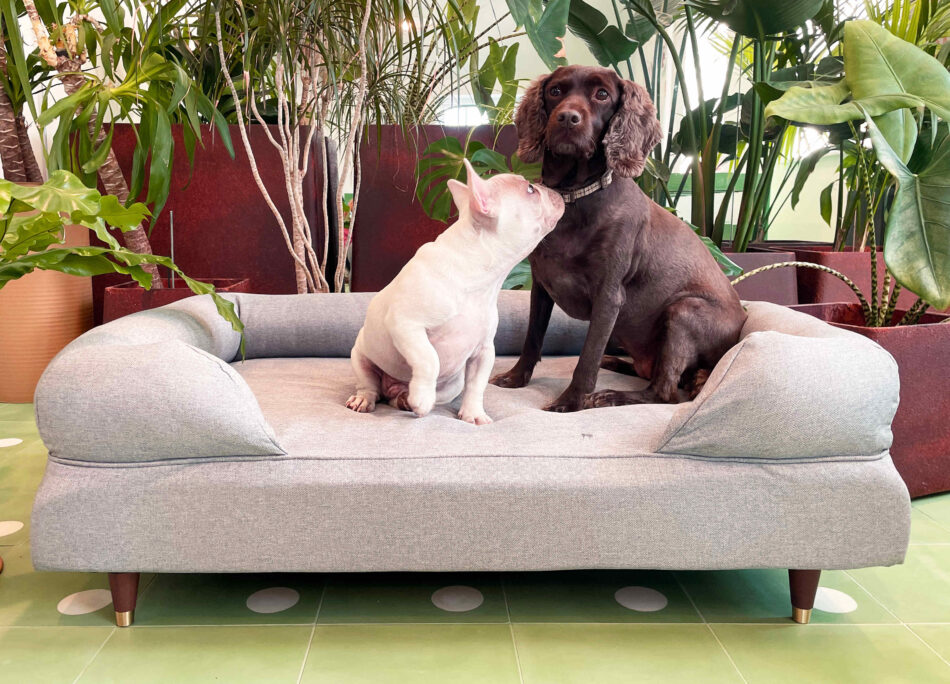 The first few weeks
Now that everyone is getting acquainted and settled in, you want to start to establish new routines. For the first few weeks after the new puppy comes home, it is best to feed your resident dog in a separate area. Puppies need to eat specific food that helps them to grow big and strong! So make sure your bigger dog eats separately to avoid any urges in helping themselves to the puppy food buffet! 
Also, keep an eye out for any sudden changes in behaviour from your older dog. Remember, they lived here first so adjustments to the new member of the fur family may take some time. Patience is key!
The goal to work towards after the first few weeks is to slowly get all four-legged friends living cohesively together. Slowly move bowls and beds closer to each other and keep engaging group play and walks to encourage the inevitable bonds. Before long, you and your resident dog will wonder how you ever lived without the puppy in the first place!
5 essential new puppy products
Just like human babies, new puppies require a lot of "stuff" to make your home, their home. Here is a list of new puppy must-haves to make the homecoming transition seamless:
Dog Crate
While some pet owners might worry about putting their precious new puppies in a crate, there are actually many benefits of an enclosed space that your dog craves! Dogs are denning animals so they naturally seek out small, secluded spaces as a way of feeling safe and protected. Most veterinarians recommend crate training your puppy as an essential way of housetraining and keeping your new dog safe. Having a crate for your puppy will also help the transition with your resident dog who already has a chosen safety spot! The Omlet Fido Nook Dog Crate is a great option as it combines a modern look with a cosy place for your puppy to call its' own!
Dog Bed
You likely already have a dog bed (or three!) for your dog, but don't forget to have one for your new puppy, too! Dogs like to have a space that is their own and with as much as puppies like to sleep, it's important that space is comfortable! Because puppies are still small in stature, be sure to get a bed that is not elevated so it's easier to climb in and out. And don't forget to find a bed that is durable and washable as puppies are still learning the ropes when it comes to potty training!
Dog Toys
If you have ever had a puppy you know all too well how sharp those tiny puppy teeth can be! When bringing a new puppy into your fur family, it's important that you have new dog toys that are not part of your resident dog's collection. Ensuring each pup has their own set of squeakers and chews will help reduce any issues! 
Dog Treats
Rewards with food are what any dog lives for! Puppies will need lots of training in the first few months, so having mini dog-friendly treats on hand will reinforce those good learned behaviours. After they obey a command or do potty outside, give the new puppy a treat to show them they did a good job! Your resident dog can also get treats for showing good behaviour with the new pup. Just remember that good behaviour has to be rewarded right when it happens in order to be effective!
Dog Bowl
All dogs need to drink water so it's important that every fur member of your family has their own bowl. Over time, your dogs may start to share, but when you first bring your puppy home, be sure it has its own separate bowl. The Omlet Bowl is a perfect choice – made of melamine, it is easy to clean in the dishwasher and virtually impossible for puppy to flip over and spill!
Signs of success
When bringing a new fur family member home, be patient in knowing it will take time for your resident dog to welcome the new pup with open arms (or paws!). In general, it can take 4-8 weeks for your resident dog to adapt to the changes that come with a new puppy. However, it can take as long as 6-9 months for both dogs to feel truly comfortable around one another. You will know you have succeeded in adding a new member to your fur family when both your resident dog and puppy can happily coexist! 
Introducing a new puppy to your resident dog can be a tricky time if not handled well. Will there be sibling rivalry? What if my resident dog doesn't like him? Have no fear! With proper preparation, patience, and a persistent positive attitude, you will likely have two tails wagging with joy!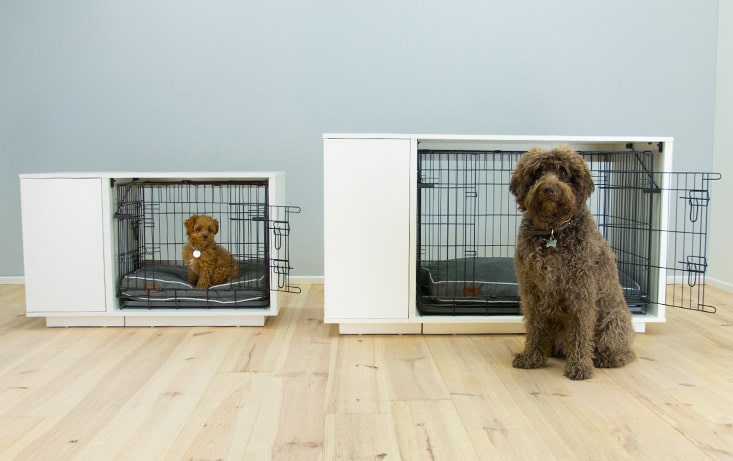 This entry was posted in Dogs
---