Adopting an older dog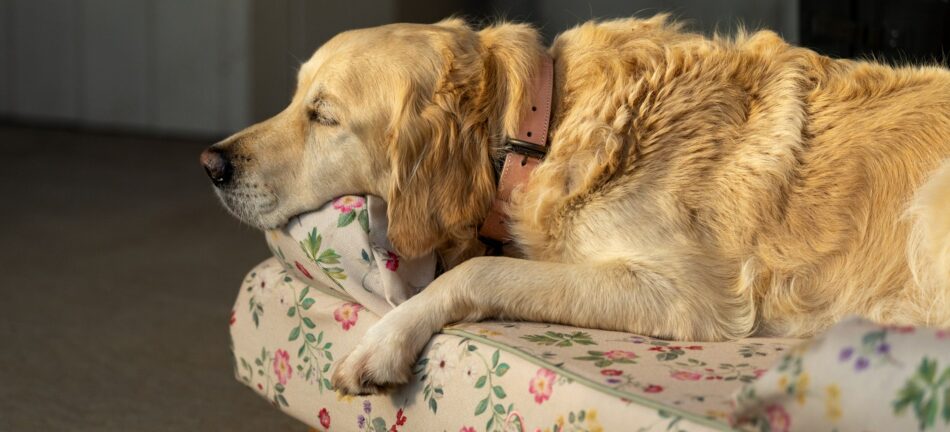 If you've ever visited a shelter or rescue, you've likely seen a wide variety of dogs of different ages looking for their forever home. But if you're looking for a canine companion that'll provide you with lots of love, fewer growing pains and a chance to slow down and enjoy life more, look no further than adopting an older dog.
Caring for a dog of any age requires work and patience. And while older dogs may come with a few more responsibilities than other rescues, don't let those grey muzzles deter you. Adopting an older dog will save their life, but the rewards you get in return will be far greater. Let's take a look at everything you should consider before adopting an older dog.
At what age is a dog considered old?
When it comes to a dog's age, does it really matter? There are many misconceptions about how old a dog is when they reach their 'senior' years because a lot of the ageing process is heavily dependent on the specific dog breed. Many believe that a dog is technically an older dog by the time they reach the age of 7 because of the infamous 7 to 1 human to dog years rule. In other words, a 7-year-old dog would equate to the age of 49 in human years by comparison. But we're betting there are a lot of people in their late 40s who would argue they're not yet old!
To really try and understand if a dog is an older dog, you can look at their breed-specific average age span and then calculate the last 25% of their life as being their senior years. So, for example, if a dog's predicted life span is 11-12 years, then their senior years would likely start around age 8 or 9. Keeping in mind that these numbers are all averages and that every dog is different even among like breeds.
Why adopt an older dog?
The better question to ask yourself is why NOT adopt an older dog? Puppies and younger dogs are great, too, but with an older dog, you receive some extra benefits that are truly worth considering when looking to add another furry member to your family. Here are some reasons you should consider adopting an older dog:
Already potty-trained:

It would be rare to find an older dog that's not already potty-trained. These dogs have been around awhile and 'know the ropes' better than their younger counterparts. So right out of the gate, you have one less basic skill to teach your new friend as they have likely already mastered it.

Deeper connections:

With age comes the knowledge of what it means to be loved by their person. Older dogs have a much better understanding of this concept, and as a result, are usually quicker to form a strong bond with you. 

Calm temperament:

If you're seeking a chilled canine companion who would rather snuggle on the sofa than chase you in the yard, then an older dog is where you should look. While older dogs still have energy to run and play, their puppy years are far behind them and they tend to be more relaxed and calm.

Second chance matters:

You can rest assured knowing that by adopting an older dog you will not only be rewarded with love and appreciation, you will also have the gratification of knowing you gave them a second chance. Every dog deserves a home filled with love and great care, and older dogs should be no exception to that. 
Teaching an old dog new tricks
They say you can't teach an old dog new tricks, but the truth is, you absolutely can! The amount of training an older dog has under their belt will vary, but they almost all have the basics covered. Training any dog requires patience and work, but chances are with an older dog, they will pick up on new tricks quicker as they tend to retain lessons faster than younger dogs and puppies.
Keep in mind that older dogs do come with older bodies, so they could get injured more easily if given new tricks that are too challenging or difficult. For that reason, make sure you really know what you are getting yourself into before adopting an older dog. Take time to research the specific dog breeds and ages that are best suited for your lifestyle before bringing home your new best friend.
Gentleness and patience are the keys to helping an older dog settle in. For many, these dogs may have spent the last few weeks, months or even years in a shelter so they will be entering your life with some expected nervousness or anxiety. Ensuring they have an easy transition into your home will require patience and time to let them get used to their new surroundings and routines.
Senior dog essentials
While every dog breed is different, most older dogs want to spend the rest of their best years doing what they love most – relaxing! So in order to make sure your older dog is as comfortable as they can be, here are some essentials you should have:
Supportive dog bed:

Just as mattresses are important to us as we age and change, so too are the beds that our dogs sleep on. And that is especially the case for older dogs. To give your older dog the most comfortable sleep, you need a supportive memory foam mattress that will provide the utmost comfort for their joints and muscles. The

Topology dog bed

, designed by Omlet, is not only a practical and stylish bed for your older furry friend, but it's engineered with versatility for you to customize specifically for your dog!

Temperature regulators:

Like us humans, dogs tend to become more sensitive to temperatures the older they are. These senior pups are more susceptible to heat stroke and heat exhaustion as they age. So ensure they have a way to cool down fast when the temperatures rise by getting them a

cooling dog mat

that can be placed on their dog bed or directly under their bodies for immediate relief. And to keep them extra cosy and warm in the winter, make sure you have plenty of

soft, snuggly dog blankets

to snuggle with.

Easy clean options:

All dogs like to sleep but older dogs like to clock in a few more hours each day than their younger canine counterparts. Because your older dog will be spending more time snoozing, you want to make sure you have a

dog bed that is easy to clean

and care for so as not to disrupt their coveted nap times.  The

Topology dog bed toppers

are a great option as they are machine washable and easy to clean. Keep an extra one on hand so you can make sure your dog always has a fresh set of sheets to zip on.
Omlet and older dogs
There really is no better gift you can give to a dog or yourself than by adopting. Whether you choose a puppy or an older dog, the rewards you receive in giving these amazing animals a good life are priceless. At Omlet, our mission is to make products that help bring you and your canine companions closer together. From dog beds, to dog bowls and every dog product in between, we want the designs that we create to be just as comfortable, supportive and enjoyable for your dog as your connection is with them.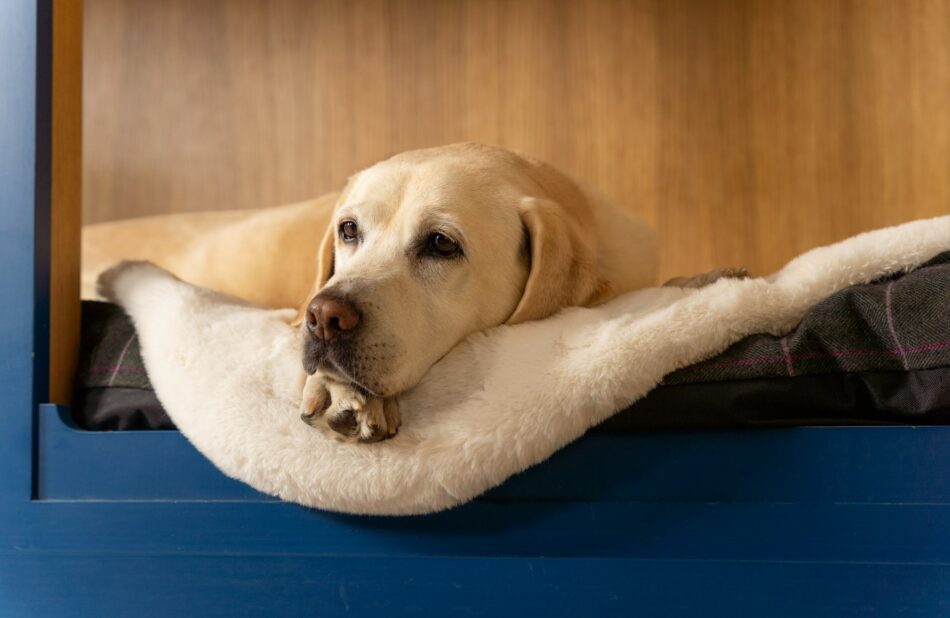 This entry was posted in Dogs
---